Surrey Fives – Final
On Sunday 15th October the Richmond Park B team made the journey to Clandon Regis to play West Surrey in order to determine the overall Surrey 5's matchplay champions for 2023. The result was a convincing win for Richmond Park; a full report from captain Brendan Sullivan and photo of the team with the trophy is found below.
The day was bright and sunny but accompanied with a bitterly cold wind which made staying in the sun a priority. Clandon Regis had the course in excellent condition with beautiful fairways and fast undulating greens. Surrey County Golf provided a referee who with the use of a buggy moved between all five matches to answer any rules queries that may arise and also kept the teams well informed of how all the matches were progressing.
West Surrey had the honour and each match was announced on the tee by the Surrey County starter. George Taylor (Rookie) was out first for Richmond Park. This was George's first appearance in the Surrey 5's but his recent good competition form at Richmond Park justified his selection. George's first tee nerves where his opening tee shot resulted in a lost ball was not a sign of things to come. With some outstanding play and excellent putting from both players it was clearly evident that this was going to be a close match but nobody was prepared for the drama that unfolded. The match was all square after 17 holes. Two good fairway drives followed by approach shots which found the 18th green (albeit with West Surrey 2ft from the pin and Richmond Park 20ft+ away) made it look as though West Surrey with draw first blood in the match. But in a true matchplay scenario George somehow sank his 20ft+ which had about 2ft of break to put the pressure back on West Surrey to hole his 2ft foot which seemed a formality. Somehow West Surrey missed and Richmond Park won the match to establish a 1-0 lead.
Out second was Pete Malla and again this proved to be yet another close encounter. In a match that was always either 1 up or level throughout also came down to the 18th with West Surrey edging a close 1 up victory to make the overall score 1 – 1.
Match 3 had the ever reliable John Perkins and again this proved to be very close with the score either 1 up or level throughout. John has been extremely consistent for the team all summer and today was no exception. John established a 1 up advantage after 17 holes and with a comfortable par on 18th gave Richmond Park a 2 – 1 lead in the match. Cometh the hour cometh the man.
Brendan Sullivan (Team captain) was out 4th and having lost the first hole to a birdie 3 soon established a stronghold on the match and ran out a 7 & 6 winner to give Richmond Park a 3 – 1 lead and overall victory.
In the anchor match we had Bernie McDermott who to-date had a 100% victory record in the Surrey 5's for Richmond Park. Bernie some weeks ago was tidying his garage and came across a Ping G2 driver (not a misprint, it really is a G2) and decided to replace his trusty 25 year old Ben Hogan driver with this modern up to date newer model. The result was never in doubt and Bernie as always throughout this years campaign didn't let the team down. With his straight driving, approach play and steady putting Bernie gradually wore the opposition down and shook hands with his opponent on the 16th green for a 3 & 2 victory to make the overall result 4 – 1 in favour of Richmond Park.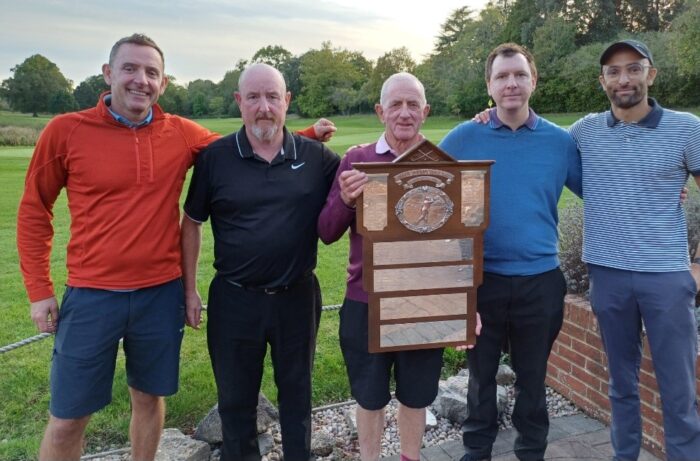 This year's Surrey 5's competition started at home on the 18th March against Kingswood and continued with the following:
29th April against Woodcote Park @ home
24th June against Wimbledon Common @ home
16th July against Reigate Hill @ home
26th August against Epsom 'A' @ Epsom
16th September against Epsom 'B' @ Hindhead
As team captain I would like to thank the following for representing Richmond Park at short notice when asked throughout this year's competition:
Will Balakrishnan
Kevin Prendergast
Russell Stewart
Toby Hunt
Ryan Wilson
Naveed Manazir
I would also like to thank Peter Harrington, Richard Owen and Roger Rojas for suggesting and recommending various members for selection and supplying contact details for those members.
Lastly I would like to thank George Taylor, Pete Malla, John Perkins and Bernie Mcdermott for turning up to play a practice round at Clandon Regis. As team captain of this Surrey 5's team their dedication and support to both myself and the team has been really appreciated. Their play in the final was exceptional and what they have achieved has put Richmond Park GC in the limelight and hopefully will inspire the club and it's members to repeat what they have done in the coming years.
Kind regards
Brendan
Team Captain
Surrey Fives, East Final
The Richmond Park team, captained by Brendan O'Sullivan, beat Epsom 4 – 1 in the 2023 Surrey 5's East Section knockout final. More details below.
Having defeated one Epsom team in the semi finals, the Richmond Park 'B' team faced another Epsom team in the East section final. The match was played at Hindhead golf course, which had beautiful fairways and perfectly manicured greens that were exceptionally fast with lots of slopes and subtle breaks.
Our team was led off by Naveed Manazir (a last minute sub. for Pete Malla) who ran into a 12 handicapper who shot -2 gross for 12 holes to give Epsom the first point with a 7 & 6 victory.
Brendan Sullivan restored the deficit winning 8 & 7 to square the match at 1 – 1
The ever-reliable John Perkins was never behind and ran out an easy 6 & 5 winner to put Richmond Park 2 – 1 up in the match.
Russell Stewart was selected for the final following some impressive play over the past few weeks and justified his selection with a 4 & 3 victory to put Richmond Park 3 – 1 up in the match.
Bernie McDermott was never behind in the last match and also saw off his opponent with a 4 & 3 victory to record an overall result of 4 – 1 to Richmond Park and the Surrey 5's East section title.
Richmond Park now await the winners of West Surrey v Hindhead to determine the overall Surrey 5's champions for 2023. This match is scheduled to take at Clandon Regis on Sunday 15th October.
Surrey Fives, Semi-Final
On a beautiful sunny Saturday morning our Richmond Park B team made the journey to Epsom to play the Epsom 'A' team in the semi-final of the East Section of the Surrey 5s. In their first 'away' fixture of the competition, our B team were victorious and now progress to meet the Epsom 'B' team in the East Section Final.
The Epsom course was in beautiful condition with perfectly manicured fairways and greens and with more slopes than an Austrian ski resort. An excellent performance by our team saw a resounding 3.5 – 1.5 victory for Richmond Park. The venue and date for the finals match against Epsom 'B' is to be confirmed by Surrey County Golf.
Will Balakrishnan led the team off and went down fighting for a 4 & 3 loss to give Epsom an early lead.
Word quickly came through that John Perkins was doing a demolition job on his opponent and levelled the overall score to 1 – 1 with a 7 & 6 victory.
Brendan Sullivan's 5 & 4 victory established the overall lead in Richmond's favour to 2 – 1.
Match 4 saw Bernie McDermott relinquish a lead of 3 up with 3 to play to give Epsom a glimmer of hope of winning the point and levelling the overall score to 2 – 2. Before Bernie and his opponent went down the 19th it was agreed to wait and see how match 5 was progressing.
Richmond's smiling assassin Kevin Prendergast, who should be a 'postman' because he always delivers a winning point for the team, didn't let he team down. His effortless 2 & 1 victory made Bernie McDermott a very happy man and sent Richmond Park into the finals.
Well done and well played everyone.
Ballantyne Trophy, round 4 (Area 2 final)
On a very windy Sunday afternoon at Hoebridge (a neutral venue), the Richmond Park team played Easthampstead for a place in the national semi final of this men's pairs matchplay competition. The course was in good condition and proved an excellent choice for the match. Our 3 pairs did the club proud by all winning their matches for a 3-0 result and we now look forward to a national semi-final against the Area 3 winners (either Huntswood or South Bucks).
With Uli away on holiday and Peter Goodall and Julian James unavailable, Roger Rojas and Mark Bean joined the team for the match. Our long hitting, low handicap pairing of Richard Back and Ross Hood were first to tee off and ground out a relatively comfortable 2&1 win (certainly more comfortable than their earlier, last-ditch 1up win at Birds Hill!). Richard Owen and Mark Bean were 2nd to go and, after halving the 1st hole, surged to strong position by winning the next 5 holes, and although Easthampstead fought back, the match was closed out with a 4&3 win on the 15th. Our final pairing of Roger Rojas and Tamas Ladacs had a close front 9 with both teams playing very well, however Easthampstead's putting fell away on the back 9 and a comfortable 3&2 win was the result.
Surrey Fives East, Round 4
On a beautiful but very windy Sunday morning our Richmond Park Surrey 5's B team welcomed Reigate Hill  to the Park for their quarter final match in the Surrey 5s. The chosen course (Prince's) was in magnificent condition with fast greens, penial rough and fairways firm and running. Strong winds made club selection extremely difficult with a premium on tee shots. An excellent performance by our team saw a resounding 5 – 0 victory, with Richmond Park progressing to the semi finals where we will meet the winners of Epsom v Surrey National. More details on the match below.
Will Balakrishnan led the team off and went into an early lead which he never relinquished before finishing his match with a effortless 2 & 1 victory to give the hosts a 1 – 0 lead in the match.
Brendan Sullivan's 3 & 2 victory was quickly followed by Richmond's super sub and first time participant in this year's competition Toby Hunt, who produced some short game wizardry to dispatch the Reigate Hill player  with a commanding 4 & 3 scoreline, to give the hosts a 3 – 0 lead and send them into the semi finals.
The evergreen Bernie McDermott with his trusty 25 year old Ben Hogan driver was demoralising his playing partner with fairway-finding drives and a short game to envy, before dismantling his opponent 4 & 3 to put the host 4 – 0 ahead.
Kevin Prendergast who was 3 down after 10 quickly got in on the action and birdied his way back into contention and finished his match with a 3 & 2 victory.
Clapham Common Round 3
It was a close match between Richmond Park and Wexham Park 'C', with RPGC posting 218 stableford points to Wexham Park's 221 points. Our 3 home team pairs scored a combined 114 points, 10 more than Wexham's away team managed on the Prince's course; however our away team were outscored by 13 points at a shortened, tight Wexham course, which wouldn't have suited the 'long hitters' that we sent there. Wexham admitted that they brought all their long hitters to Richmond Park and it looks like their strategy paid off. So we'll try again next year.
Ballantyne Trophy, round 3
Richmond Park welcomed Hoebridge for their Round 3 match in this men's 4BBB matchplay competition. In very hot weather conditions a 2:1 win was achieved with solid play on a bone dry Prince's course and the team now moves to a Region final against Easthampstead.
Our first pair (Pete Goodall and Julian James) were up against two low handicappers, who played the course to an impressive 2 over par. They kept up with them till the 16th but were finally beaten '2 up'. Next up were Richard Back and Tamas Ladacs, who were up against two single figure handicappers from Hoebridge. After some back and forth, Richmond took command and closed the match out on the 16th with a 3 &2 win. Our final pair, Richard Owen and Uli Katte got off to a slow start, 2 down after 3 holes but clawed their way back to be 1 up at the turn. With Richard's net birdies on the 10th and 13th, the lead was extended to 3 up and the match was closed out on the 16th hole, 4&2.
Surrey Fives East, Round 3
On a beautiful Saturday morning our Surrey 5's B team welcomed  the Wimbledon Common A team to the Park for their 3rd round match. The result was a 3.5:1.5 win for Richmond Park, who are now in the Quarter Finals.
The match was played on Prince's which had fast greens and fairways but the rough was penial if your tee shot strayed off line a fraction.
Will Balakrishnan let the team off and went down fighting to a narrow 2 & 1 loss to give the visitors a 1 – 0 lead in the match. Brendan Sullivan got things back level with a 2 & 1 victory which was quickly followed by Richmond's john Perkins commanding winning 4 & 3 to give the hosts a 2 – 1 lead.  As Richmond's Bernie McDermott was putting out on 18 to finish all square, news filtered through that new debutant Kevin Prendergast had demolished the Wimbledon Common club captain 4 & 3 to put Richmond Park over the winning line and into the quarter finals where we will meet either Reigate Heath or Reigate Hill.
Clapham Common Shield & Ellis Cup
After a bye in the 1st round, the club played this 2nd round men's greensomes match home & away against Hoebridge on a lovely warm and sunny day. The overall result was a narrow victory for Richmond Park 220 points : 218 points but it took over 4 hours after play finished for the result to be confirmed/agreed! Next round is against Wexham Park.
The 3 pairs at Richmond Park (Brendan Sullivan & Bernie McDermott, Kerry Sargeant & Alan King and Uli Katte & Richard Owen) teed off an hour earlier than those at Hoebridge. All of the Richmond Park pairs outscored their Hoebridge playing partners on the Prince's course and together amassed what we believed to be a 16 points advantage. Was this enough ? There was a long wait to see how our away team (Roger Rojas & Mike Shabani, Ross Hood & Pete Malla and Kim Chaffart & Tamas Ladacs) had got on. News trickled through from team captain Roger that "it might be a draw" and copies of the RP cards and back 9 countback scores were requested. Together all the information was 'audited' by Roger and the Hoebridge captain and it was found that Hoebridge had mis-calculated some of their team handicaps both home and away, resulting in a 2 points swing to Richmond Park, who won by 18 points at home and lost by only 16 points away. Phew!
Ballantyne Trophy, round 2
Three men's pairs played away against Bird Hills Golf Club in this 4BBB NAPGC matchplay competition and were winners 2:1. Our 3rd round match will be against the winners of Hoebridge A and Tilgate Forest B.
It was an overcast and chilly 9am start but fortunately not raining, as the Bird Hills course was already extremely wet with County dispensation granted for Winter Rules to still be in force. Our first pairing of Peter Goodall and Julian James played well but could not overcome the 'local knowledge' of their opponents, who won 2&1 on the 16th hole. Our 2nd pair of Uli Katte and Richard Owen won their first hole but were one down after 3 holes; they then clawed their way back to 2 up at the end of the front 9. Their lead was extended with good interplay by Uli and Richard and they closed their match out for a 4&2 win on the 16th green. Our low handicappers, Richard Back and Ross Hood, represented us in Game 3, Richard giving 10 shots and 16 shots to their 2 opponents. Things were not looking good for them when they were 4 down with only 6 holes left and (knowing this) our first 2 pairs waited in the clubhouse for the seemingly inevitable team exit from the competition. However, Richard and Ross achieved 'mission impossible' by securing a 1up win with a combination of closing birdies and pars.