Mitcham Friendly – 2nd Leg
This was the second and home leg of the women's annual match. Injuries and holidays gave an opportunity for us to blood a rookie into matchplay. Seema who'd volunteered to play when our numbers got reduced was getting cold feet about this rash decision, but she bravely ploughed on and even admitted to enjoying it after the match!
After the away leg we were 2-1 down but fought back at the Park to reverse that score meaning that overall the match was drawn, but RP retain the trophy as last year's winners.
It was a fairly slow Saturday morning's golf but the weather decided to be kind to us and the company was good for each match as was evident by the level of chat afterwards amongst the women as we tucked into pizza and chips.
Thanks to the team of Sheena, Lia, Jayne, Susan, Doreen and of course Seema.
Mitcham Friendly – 2nd leg
Another hot day on the parched fairways of the Park for the home leg of this match. A combination of the excessive run on the ball and the Open bringing out the occasional golfer all lead to some very slow rounds.
Some very tight matches today but with a lead from the 1st leg our team capitalised on it further to win 2.5 to .5 today to win the Rich-Mitch trophy again.
Thanks to the team of Ronnie, Silvia, Fiona, Jayne, Joan and Sheena with special thanks to Joan for stepping in at the last minute after an injury withdrawal and to Fiona for making the long journey from her new home in Kent to play with us.
Mitcham Friendly – 1st leg
With both teams struggling for players, it was down to 3 pairs from each club to play the 1st leg of the 2022 friendly which was at Mitcham on day warm enough for tee shirts and shorts as shown below and Richmond coming away with a 2-1 lead,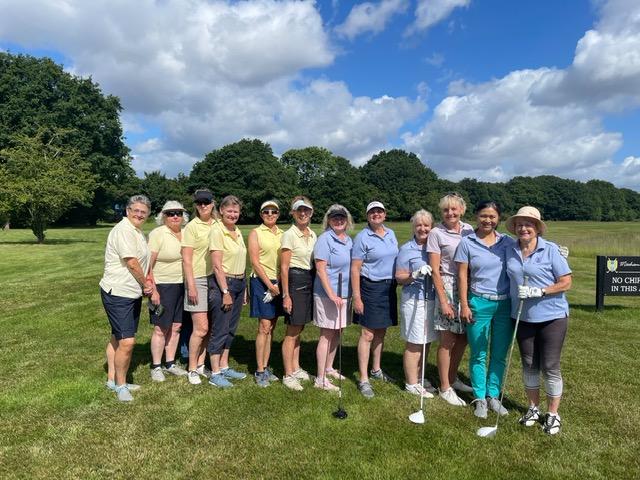 We had a good high/low combination in all three pairs, but for Sheena & Fiona who were playing the Mitcham captain, Emma and Sarah it was not enough. 3-0 down after 3 holes they held on to the 17th but a net par for Emma sealed their win. Jayne and Ann meanwhile had a romping 8-7 win to enjoy the remainder of the holes with no pressure. Our final pairing of Veronica and Deborah also won fairly comfortably 5 and 3.
As ever it was a very enjoyable day out and good to see some familiar faces from previous encounters. The return leg at the Park is on 30th July.
Mitcham Friendly
RP won 3-0 with two 4&3 victories, with the 3rd game being a close fought affair ending 1up.
The 2nd leg was postponed from the original date and will now occur in October.
Mitcham Friendly
The Ladies fell to a 1-2 loss in the home leg. Report…
Mitcham Ladies – Away Leg
Result: TBA
Overall result: TBA
Report to appear here.